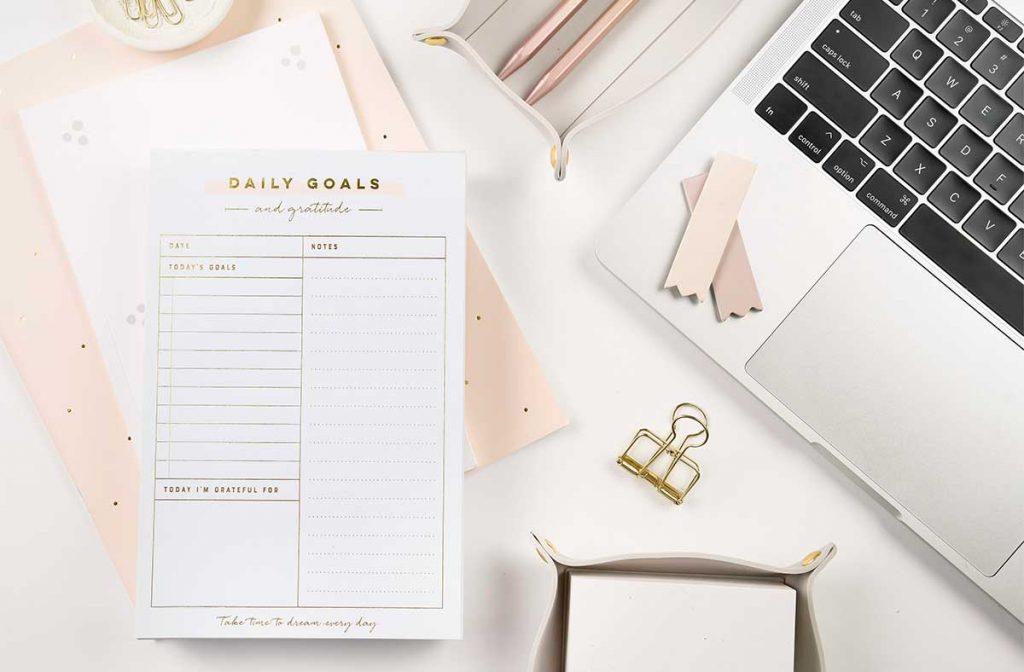 Do you want to learn how to start a blog?
How to start a blog and make money blogging: A step-by-step guide to starting a blog for beginners!
You have come to the right place of reference to do so because this is a free easy step by step ultimate guide on how to start a blog, how to make money blogging and how to start a WordPress blog on Bluehost.
This easy step by step guide will have you start your own blog that is successful and profitable from day 1. You will be able to start, grow and monetize your own profitable blog by selling products, work with brands, promote affiliate links and more.
These are the exact steps I took to start my blog and began making money from the blog just 1 month.
No technical skills needed!
If I can do it so CAN you and YOU will. I promise it'll be simple and definitely easy to understand (no stupid jargon). I'm here to help you!
Now let's get you started!
I made a workbook and checklist to help you along the way with the whole process. Sign up below to my free blogging course and get the workbook and checklist.
Want my Free Course: How to Start a Profitable Blog in 7 Days?
Enter your name and email address below to get instant access to my course sent directly to your inbox!
We respect your privacy and won't ever send you spam. By signing up you agree to receive emails from Create A Blog Easy. You can unsubscribe at any time.
How To Start A Blog And Make Money Blogging – The Ultimate Starter Guide
This ultimate guide will help you start your own blog TODAY, it is the ultimate step-by-step free beginners guide to build that blog you have always dreamed of and make money blogging too. All these questions below will be answered in this guide!
How do I start a blog?
How do I start a blog and make money?
How do beginner blogs make money?
Please note: This post contains affiliate links, which means I may receive a small commission at no extra cost to you if you make a purchase using my link. Read my full disclosure here.
How To Start A Blog
Starting a blog is not that difficult, you can have your blog up and running in under an hour. These are the exact steps I took to start my blog and started earning some money in 3 months, I started blogging as a carer with the goal of earning $1,000 a month so I wouldn't need another job.
These are 3 things required to start a blog:
Domain Name: The URL address of your website e.g yourdomainname.com
Web Hosting: The web hosting provider that will host your website.
Blog Theme: A web theme that will make your website look professional.
Very low investment is needed to start a money-making blog, it costs just $3.95 a month for a domain name and web hosting, I recommend a self-hosted WordPress blog hosted with Bluehost.
I also recommend bookmarking this guide so that you can come back to it and pick up where you left off at any time.
If you take 30 seconds right now to sign up for 60% off your domain name and hosting with Bluehost you'll be able to take action every step of this tutorial guide.
How To Start A Blog And Make Money
Here's what I'll cover in this step-by-step guide:
Name your blog
Setup web hosting with Bluehost
Choose your Domain Name
Install WordPress
Choose a WordPress Theme
How to make money blogging
If you are new to the blogging world, I recommend reading 5 Things To Do Before Starting A Blog first and then come back to this tutorial!
Bluehost has generously offered a hosting package starting at just $3.95 a month for readers of Create A Blog Easy along with a FREE domain name.
To get this special pricing, just be sure to use any Bluehost link in this post!
Step 1. Name your blog
Naming your blog could be one of the hardest things to do! however, once you have decided on what to blog about, it is now time to name your blog. Your domain name is your blog's address on the web.
Here are a few tips to help you choose a domain name:
Choose a name that is easy to spell and easy to remember
Choose a name that is related to your niche
Make sure that your chosen name is available
You can use the domain checker tool from Bluehost to see if the domain name you want is available to register:
Some bloggers prefer to keep their domain name separate from their hosting company, however, you do get a free domain with Bluehost.
If you decide to keep your domain name separate then you can purchase your domain name at namecheap.com at a discount price.
Step 2. Setup Web Hosting With Bluehost
Click here to go to Bluehost and click the green "Get Started Now" button. This page will remain open, for you to continue with the instructions.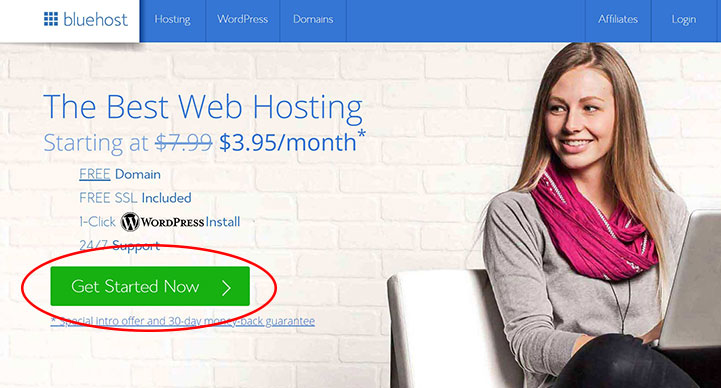 Select a plan
Choose a plan by clicking one of the "Select" buttons.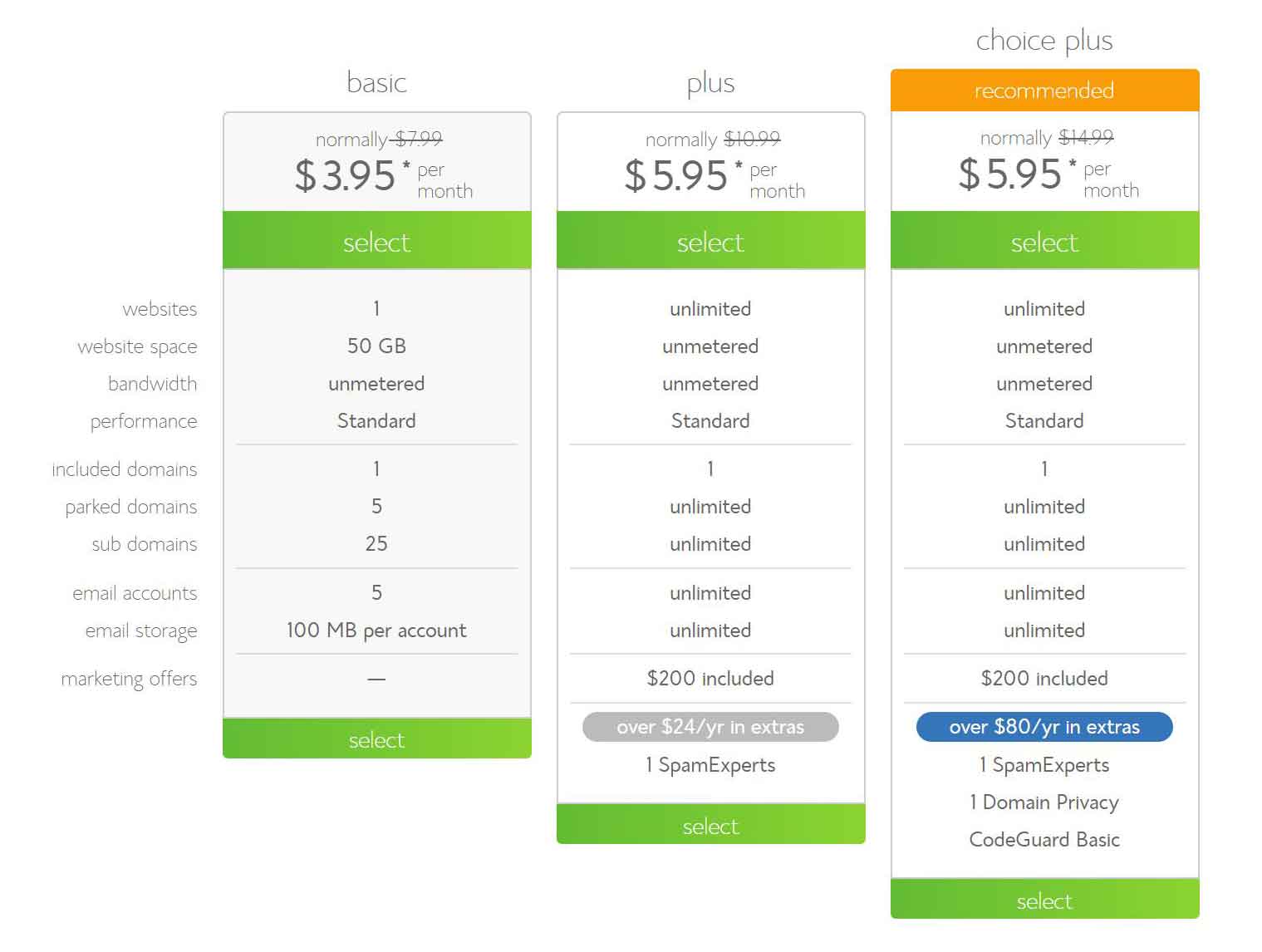 You can start with the basic plan which is OK, however, if your budget allows you then I would recommend the Choice Plus plan as it has more unlimited features which include domain privacy.
Domain Privacy is highly recommended as it hides your personal information such as your name, phone number, and address from the public.
If you choose the Basic or Plus plan, you'll have the option to add domain privacy later.
Step 3. Choose Your Domain Name
Next, register your domain name! Enter your choice of name and Bluehost will let you know if it's available. for example, createablogeasy.com is my domain name, this will be your brand and what people will remember you by.
If you already have a domain registered somewhere else, enter it in the "I have a domain name" box and click "Next" to continue.

Enter your account information
On the next page, Bluehost will ask you to fill out your billing information.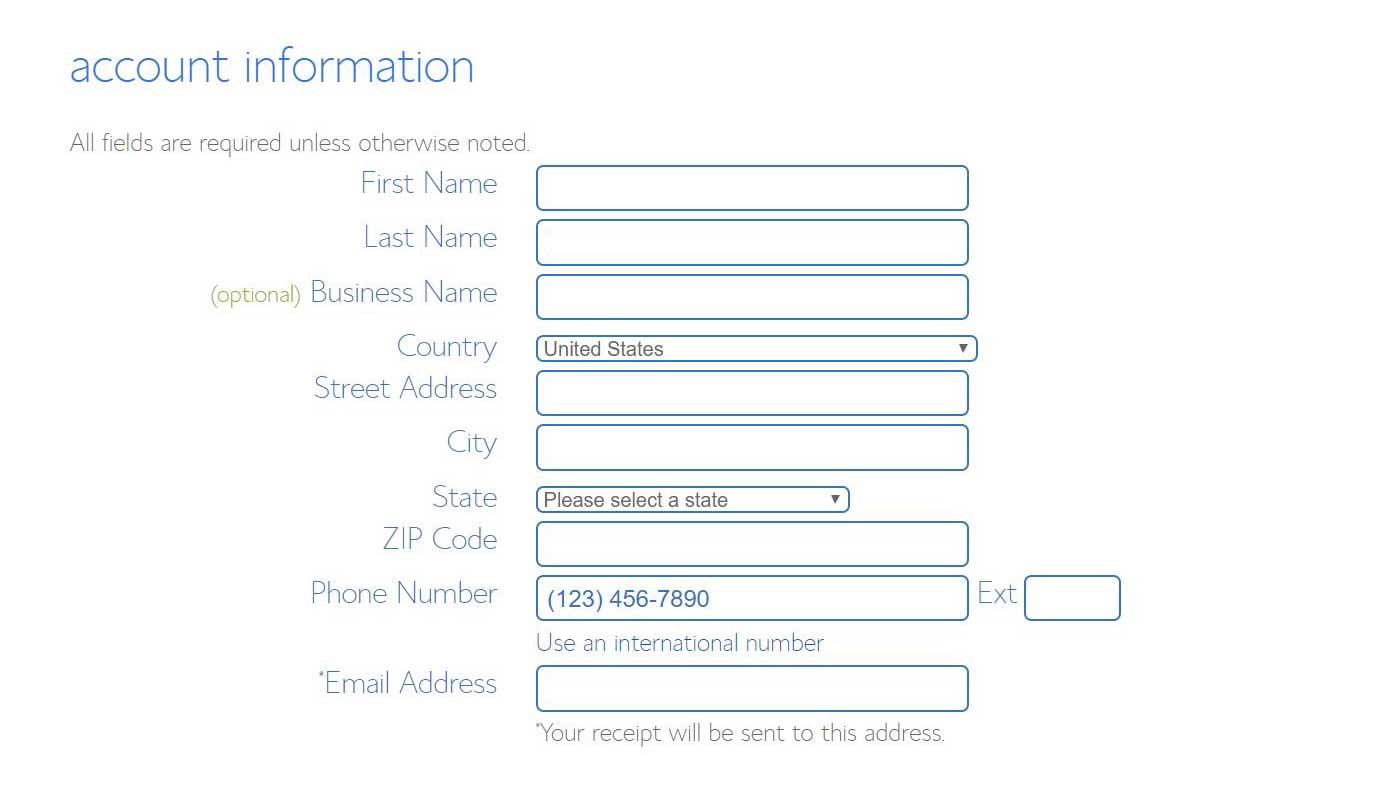 Select your package
To get the best price, select the 36-month plan. You will pay for your hosting all at once as opposed to a month to month basis.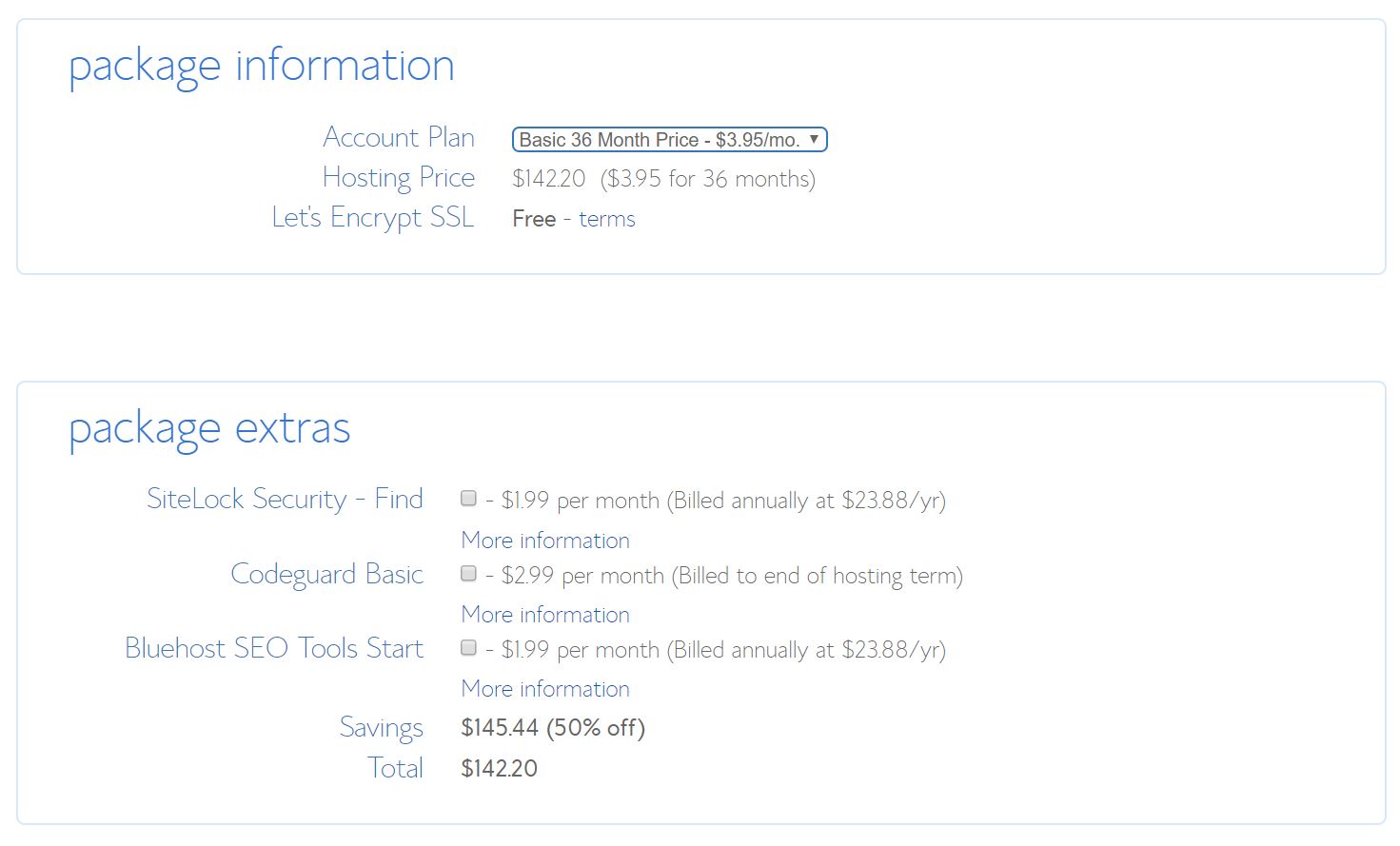 Click to agree to the terms and click next
Now you will be taken to the sign-up successful page where you will create your password. Please keep this password safe.
Step 4. Install WordPress
Bluehost will automatically install WordPress for you.
What is WordPress? It's a free Content Management System (CMS) platform where your blog will run.
Your WordPress dashboard is where you will go to change the look and feel of your blog, you will be able to install your theme, install free plugins, write blog posts, blog pages, upload images, etc.
WordPress is the most powerful blogging platform used today, it gives users the ability to create beautiful websites without knowing how to code.
WordPress is now installed, you will be able to log in by clicking 'My Sites' and then login.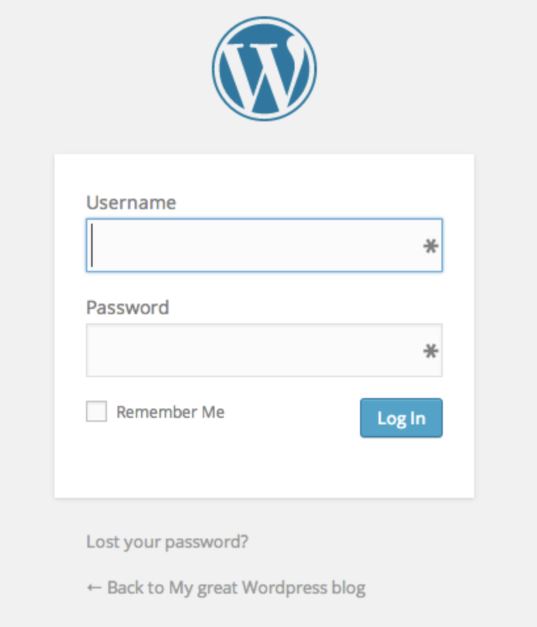 Once logged in to WordPress, you will be in your WordPress dashboard.
Step 5. Choose a WordPress Theme
Your new blog needs a theme so choosing the right theme is crucial. The look and feel of your brand will be the first impression your visitors will see when they come to your blog.
Within a matter of seconds, they can decide to stay or leave. Investing in a quality professional premium WordPress theme is always a good idea because most premium themes are free from bugs and most importantly you get updates.
Divi Theme is my #1 recommendation theme for beginners. as I use it. It's one of the most popular premium WordPress themes on the market by Elegant Themes, it gives you access to over 80 different themes to choose from.
Reasons to use the Divi Theme
The theme is customizable
Free Theme support
Free updates
Bug-free and up-to-date with WordPress version
It's Responsive
Here is an additional resource to help you to start exploring your Divi Theme.
Install Plugins
Now that you have WordPress installed, your site will be very basic. You need to add some plugins to your website to make it function properly.
One of the many great things about blogging with WordPress is that you have access to so many great plugins. Plugins are like apps, used to improve its functions.
Must-Have Free Plugins
These are the free WordPress plugins that I use and recommend to anyone starting a blog.
Yoast SEO
Askimet Anti-Spam
W3 Total Cache
Classic Editor
Google Analytics Dashboard by MonsterInsights
SpeedProd
UpdraftPlus
Social Warfare
Pretty Links
Grammarly
Learn more about recommended free plugins here.
Step 6. How to Make Money Blogging
How do beginner bloggers make money? Well, there are 4 main ways to make money blogging.
Ads
Affiliates
Sponsored Posts
Products
How Do Beginner Bloggers Make Money?
Ads
Ads are a great way to get started because you set them up. You also don't have to do anything else because the ads will be working for you. Sit back and collect income, although it is not the most profitable.
Affiliates
Affiliate marketing is where you promote a product on your blog! Also, you earn a commission when someone clicks and buys the item through your affiliate link.
Always use your affiliate link on your blog for any product you are recommending so that you can earn commission through your affiliate link.
Almost all online products and services offer affiliate programs.
Sponsored Posts
Sponsored posts are where you write a blog post review related to a product similar to your niche for companies.
They pay you to embed their link in the blog post review, this can be one of the best ways you can make a healthy income.
The sponsor company will either pay you for your blog post review or send you a free product. It can be a great way to supplement your income while you are growing your blog.
Products
You can increase your blog income by creating your own products to sell, as a result, this can be very profitable. Provide your readers with something of value that you have created and sell it to them, therefore you should create things like:
Ebooks
Printables
Courses
Templates
You can use Canva to create some of the above examples because it's a free graphic design tool and pretty easy to use too.
Check out the Resource Library
Check out all the essential tools & resources needed to build your blogging/online business I can't live without.
Recap
So this is it, the low down on starting a blog from scratch for beginners and how to make money blogging!
Remember, follow these steps and you can't go wrong:
Name your blog
Set up web hosting ( I recommend Bluehost)
choose your domain name
Install WordPress
Choose a WordPress Theme (Work on the design and feel of your blog, I recommend Divi Theme)
How to make money blogging (Start making money with monetizing your blog)
Check out some of my most popular blogging related posts: